Inspire...
Eat, Meet &
ELECTRICAL CHIMNEYS
in INDIA
Largest Manufacturer of
GLASS PROCESSING
Facility
Inhouse
Latest


GERMAN

Technology

Quality
Testing Procedures
Assurance Through Rigorous
BEST PRODUCTS FOR YOU
Our Product Range
Powered by Futuristic Technology
With an extensive range of innovative appliances manufactured using latest technologies possible today, Inflame is constantly working to meet the ever-growing demands of the industry. From our unique Hobs to energy efficient Electrical Chimneys/Cooker Hoods, Inflame supplying its products to almost every leading kitchen appliances brand in India and overseas.
Inflame. Inspired Cooking.
One-of-its-kind Appliances Manufacturing Facility in India
Our development process include Research & Design, Development, Testing, Manufacturing and Delivery. Our progressive management and cutting-edge production technology contribute to our ability to provide our customers with exceptional value in a highly competitive industry. The present facilities at Inflame include a metal pressing unit comprising of mechanical & hydraulic presses, tool room, Glass tempering & processing machines, CNC laser cutting machines(Germany), CNC bending machines(Germany), CNC turret punch machines, assembly lines, a powder coating & vitreous enamelling plant. These latest technologies help us to achieve our goal of producing zero-defect products with a manufacturing capability of over 25000 Electrical Chimneys/Range Hoods every month.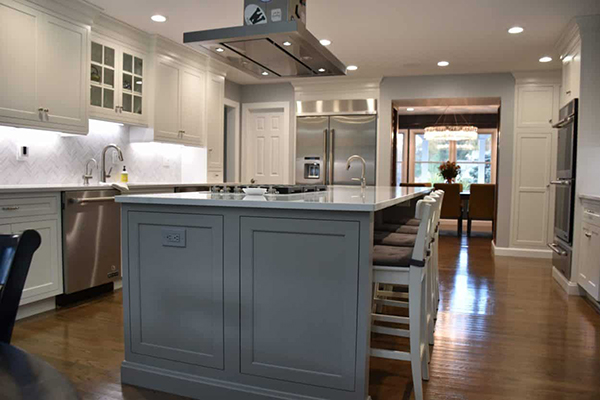 What used to be an idea in retrospect while planning homes, the kitchen has immediately increased prime land in the previous couple of years. Houses are being structured remembering the kitchen as it is viewed as a space that unites the entire family, while making recollections that last. 2016 makes them guarantee new structure patterns rising and here are only a not many that we can't quit considering:
Dim Palettes: If you're pondering what the shading plan during the current year will be, look no further. The shading palette in cooking spaces is going bolder and increasingly untraditional with a heavier lean toward shades of dark and dark. An impression of extravagance, these darker shades are being stood out from a trace of downplayed hues to loan a chic vibe to the space and makes it less overwhelming. Shimmering dark appliance's and cabinetry are finding their way into kitchens. In the event that you are wanting to re-show your kitchen, look at Inflame home appliances and measured kitchens that sport a scope of hues spreading over unobtrusive to intense.
Coordinated Spaces: Kitchens are never again the disregarded rooms they used to be, allocated to a little corner of your home. Indeed, 2016 has seen delightful coordination between parlours and kitchens, thumping down entryways. In addition to the fact that this creates an increasingly open environment, it likewise acquires a multi-reason usefulness to the space. Thusly, the accentuation of legitimate space arranging has turned into much progressively imperative. With ways of life getting busier, there is no denying how much an appropriately introduced kitchen that takes care of capacity issues and gives unlimited conceivable outcomes is difficult to stand up to! Inflame scope of the consummately assembled particular kitchens, perfectly shown here, will energize you!
Cleaning up: If you're moderate about the manner in which you utilize your space around your homes, this is one pattern you will rush to receive in your kitchen! Capacity streamlined, takes into account cleaning up by fusing shrouded drawers, rollouts, tilt-ups, and pull-outs in kitchen cupboards. These are to a great extent turning into a piece of DIY home improvement tasks to advance spaces better and keep up a perfect, uncluttered look. Find an IFB guide close toward you from here, and take a decent, close up take a gander at the numerous ways you can clergyman your kitchen space!
More slender Countertops: Sometimes marginally changing the profile of a component in the kitchen is all you have to change the look totally and make it look bigger. This is the reason thick, strong ledges are being exchanged for slenderer, progressively refined styles. Considering kitchen spaces are ending up progressively coordinated, plans are ending up increasingly smooth and streamlined and we are certain the dainty ledges are digging in for the long haul!
Transitional Styling: Another enormous pattern this year are transitional kitchens. For the individuals who like to strike a charming harmony between the glow that accompanies customary structure and the streamlined clean lines that accompany a contemporary intrigue, a transitional kitchen makes only the correct fit. It superbly mixes a useful kitchen space with a particular style that offers a lot of adaptability. Fusing a transitional style isn't troublesome and can be accomplished with minor changes or in the event that you are hoping to redesign, give your kitchen a total change! It tends to be accomplished at any rate you need — be it joining reciprocal completes, or exploring different avenues regarding eccentric things. Stirring up a great deal of surfaces while keeping the hues impartial will include that sparkle. Notwithstanding including an extraordinary pendant lighting can go far in sprucing up a customary kitchen. In case you're anticipating redesigning your kitchen, investigate Inflame scope of secluded kitchens that sport a scope of surfaces, hues, and completes that are most appropriate to your necessities.
Get involved: let's find a way to feed 9 billion people in 2050
What are the biggest environmental issues we face? Pollution? Climate change? True. But among these environmental topics, feeding the growing population, 9 billion in 2050, is one of the most pressing issues we have to find a solution for.
To solve this problem, we need people to gain knowledge, do research, and explore the options. You can be a piece of the puzzle, help find a solution, and start now by gaining knowledge about food production systems, food security, sustainable development in agriculture and livestock, and systems thinking.
The value of systems thinking
Learn about systems thinking and its application to improve the environmental sustainability of food production systems. The main topics are:
Complexity and diversity of food production systems
Principles of system analysis
Evaluation methods for the environmental impact of food production systems
Strong and weak points of different food production systems
Crop production
Learn the basics of crop production to feed the world and preserve our planet's resources. The main topics are:
Basic concept of plant production
Issues related to global food production and consumption
Influences of water (scarcity and availability) and other measures on crop production
Processes that cause major problems for the environment
Measures to solve and prevent those problems
LPG is a popular and efficient energy source used in homes for cooking on gas stoves. It is imperative that you take good care and use it safely and responsibly. LPG Cylinders are strong and cannot be damaged easily. However leaks can occur from cylinder, valves and pipe connections if it is not kept in good condition or if considerable care is not taken while replacing them.
When buying your LPG
Always buy LPG cylinders from authorized franchisees only
Check that the cylinder has been delivered with the company seal and safety cap intact, do not accept the cylinder if the seal is broken
Please look for the due date of test, which is marked on the inner side of the cylinder stay plate and if this date is over, do not accept the cylinder
When cooking with LPG
Keep the windows open to ventilate your kitchen
Do not place flammable or plastic items near the flame
Never leave your cooking unattended. The cooking vessel could overflow and extinguish the burners, causing gas to leak.
Close the regulator knob to OFF position when cylinder is not in use
LPG maintenance
Disconnect LPG regulator and affix safety cap when your gas stove is not in use for prolonged period
Always store the LPG cylinder in an upright position and away from other combustible and flammable materials
Check for gas leaks regularly by applying soap solution on cylinder joints. The appearance of soap bubbles indicates leak points
Do not use open flame to detect leaks
Always replace worn-out or defective tubing and regulators. Half of all cooking gas-related accidents occur due to leakages from the rubber tube. Use only regulators and tubes with ISI Mark
Make sure all parts of your LPG system is in good condition. If you find anything wrong with any part, contact your franchisee immediately and ask for assistance
Never tamper with your LPG cylinder
An ISO 9001:2015 certified company